Restore Child Care Protests
February 2007
Media Release: Government must fund child care
Media Release: Child care protests pressure province
February 13th Rally in Victoria – online video

Restore Child Care! Events and protests planned across BC
February 2007
BCGEU members are working with parents and community partners across the province to bring public attention to the impact of the most recent child care cuts.
Only a political decision can reverse the cuts, restore funding and build a stronger child care system.
A variety of events are being planned including public town hall meetings, rallies, letter writing campaigns, and MLA visits.
Check for new information and details

Campaign Buttons and Stickers – Wearing the campaign messages!
February 2007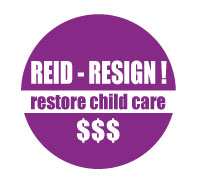 Buttons are available from info@cccabc.bc.ca
Colour stickers for printing (PDF files – you can print them on Avery 5164 labels):
Sticker 1
Sticker 2
Sticker 3
Sticker 4

Minister Reid – Resign! Minister Taylor – Restore the Cuts! Premier Campbell – Build a Child Care System!
January 2007
On January 5, 2007, Minister Linda Reid, BC's Minister of State for Child Care announced her government's latest attack on working families in BC. In spite of over $2 billion in projected provincial surpluses, Minister Reid announced $35 – $40 million in cuts to BC's already under funded and fragile child care services…

Media Release: Minister Reid – It's Time to Resign!
January 16, 2007
The Coalition of Child Care Advocates of BC is taking the unprecedented step of calling on Linda Reid, BC's Minister of State for Child Care to resign from her Cabinet position…